Friendship Day Greetings – English
September 1, 2020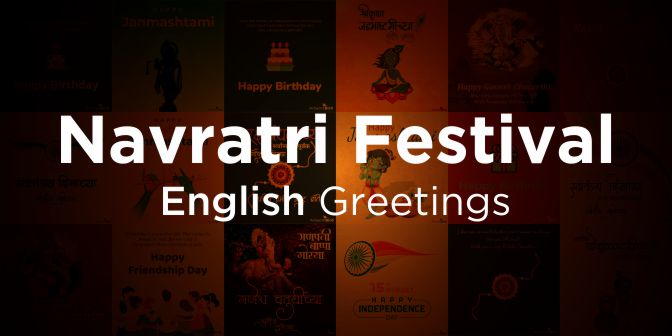 Navratri Greetings – English
September 27, 2020
Navratri Festival Greetings - Marathi
Navratri festival is very important Hindu festival and celebrated all over the country. Navratri is a festival of nine nights and ten days celebrated in every year. During this festival people worship goddess Durga.
The nine days of the festival are dedicated to goddess Durga and her nine Avatars. Navratri festival is clebrated to worship the nine forms of goddess Durga. Festival of Navratri which brings a lot of happiness in minds of people. It celebrates the victory of good over evil.
On this Navratri Festival, wish your lovely Friends and family members using ArtworkBird special Navratri greeting cards. Feel free to download your favorite ones and share them.
How to download:
Step 1: Click on Image
Step 2: Right-click on image and Save the image.
navratri images, happy navratri, navratri wishes, happy navratri images, happy navratri wishes, navratri festival, navratri image, navratri images, navratri background, navratri ambe maa images, navratri banner background, navratri devi images, navratri festival, navratri images 2020, navratri festival greetings in marathi, happy navratri greetings, whatsapp navratri greetings, happy navratri greeting card
Please if you want any changes or you got any mistake on above Greetings please comment and give your valuable feedback.
Thank you guys hope you like it.. :)